CISSP Bootcamp and Courses
CISSP CERTIFICATION TRAINING
(Last update February 14th, 2023)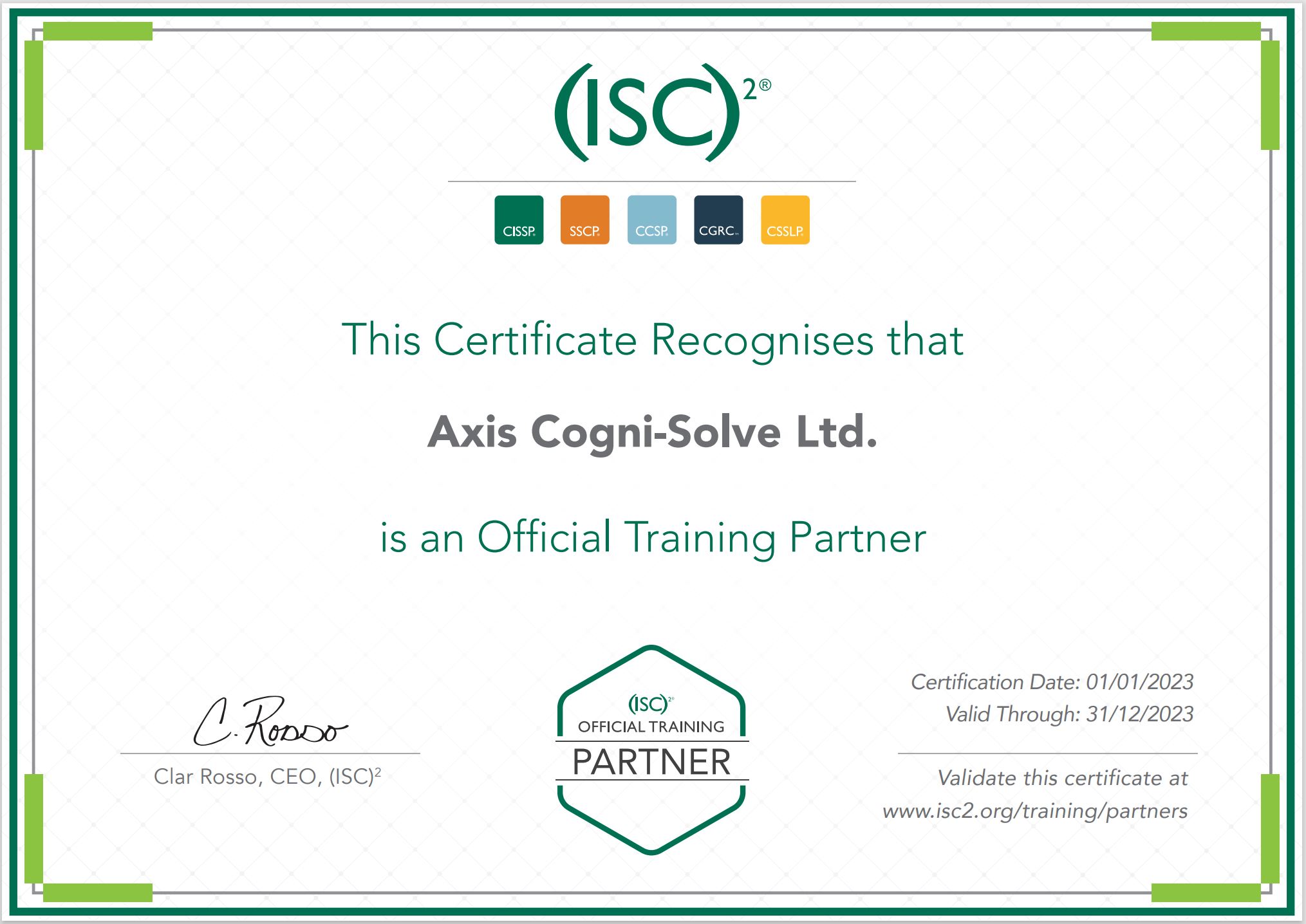 CISSP Exam Bootcamp
CISSP (Certified Information System Security Professional) is the most highly recognized certification within the field of information security. Through our partnership with (ISC)2 you will receive official course material to build the fundamental understanding of the 8 domains within the CISSP Common Body of Knowledge. To best suit each individual's needs we offer the course in various instructional formats, and when paired with our expert instructors, upon completion you will have all the knowledge and skills required to complete the CISSP certification exam.
Axis Cogni-Solve Ltd.'s Instructors

Axis Cogni-Solve Ltd. has been providing security training and professional development for years, including corporate training. We are (ISC)2 Official Training Provider (OTP). All our instructors are authorized (ISC)2 instructors with over 30 years of diverse industry experiences in Business Enterprise, Industrial, and Military domains. These experiences include teaching and security experiences as service provider, system integrator, and as asset owner & operator.

Email
info@axiscognisolve.com if you would like to discuss how CISSP and (ISC)2 can help you with your career when you have:

security experience.

have no security experience.
the need to know and learn just enough security knowledge and experience.
(ISC)Schedule
Daytime, evening, weekend, and combination
Duration can range from 3 days to 5 days, depending on your experience and knowledge
Customized schedule for one student up to 30 students.

First booking first serve.
*We do offer course base program as developed by us provided through local education institution.
*This education institution is also an (ISC)2 Official Training Provider (OTP).
*Contact us for details and pricing.
Delivery Modality

We normally teach via zoom for delivery efficiency and cost effectiveness

Special arrangement can be set up for onsite or in Calgary location delivery, such as corporate training
COST (In Canadian dollars)

Regular price CAD $2,499 plus applicable tax

Exam voucher CAD $1,100 plus applicable tax
Online Self-paced learning CAD $599 plus applicable tax
Refund Policy
There will be no refund once a course code has been emailed.
Registration and Payment
Secure registration and payment links will be sent once you have email
info@axiscognisolve.com
with your contact information
This website does not store any personal and private information